Homily — Holy Family MMIV December 26, 2004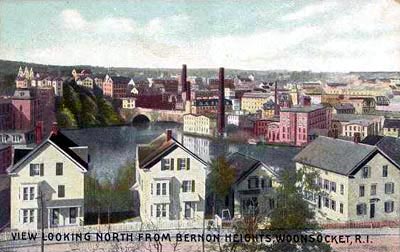 Last Monday afternoon, I was in the Church hearing the last group of confessions for the Good Shepherd School children. In case you don't know, all the children in the school go to confession twice a year — once before Christmas and again before Easter. Fr John Sistare, the new assistant pastor of St. Joan's Church in Cumberland was also hearing them.
After I finished, I noticed that 3 or 4 of the dozen or so children were doing the Stations of the Cross around the Church. I said to myself "gee, that Fr. Sistare gives strict penances." So I went up to him and said "you gave the Stations as a penance?" And he replied "I thought you gave it to them!" At that point one of the children had reached the station near where we were standing and I said "you're doing the Stations on your own?" And she smiled and moved along the via dolorosa.
I said to Fr. Sistare "can you believe this place?" Woonsocket is on the whole a wholesome, God fearing city largely because of the many tight knit French Canadian families still to be found here. Even those who don't come from a strong family find support and inspiration by the many that surround them. It's a healthy family atmosphere that rubs off on you.
The family in general, and the Churches and priests are great in Woonsocket, but there's one thing this city has lots of which makes Satan and his demons tremble with fear. Something so powerful before the throne of Almighty God. Something thousands of Woonsocket residents will be eternally grateful for come judgment day. That something I'm talking about is Memeres.
There are probably hundreds of good holy Memeres in this city — a real spiritual army against the forces of evil. When they're not cooking or babysitting or doing their stores or playing Bingo they are in Church or at home praying their Rosaries or watching EWTN.
I bet that there are a dozen people in the congregation today that could get up to this pulpit and say how they are in Church today because their grandmothers prayed for them when they were young and foolish and by the grace of God they got back on the straight and narrow. That's because Memeres pray as if the nation's security depended upon it. And it does.
Now, your Memere might not know how to use the internet. She might not even understand the VCR or even a microwave. But there's a lot of Memere's out there that are as infallible as the Pope when it comes to following God and what's right and wrong. Matter of fact, if the Pope or Bishops are in doubt or need affirmation, who do you think they turn to? The holy memeres of the Church, that's who — they're the real ones running the show.
And that's the way it ought to be, for as we see on Christmas God comes to us first and foremost through the family. But the world today is too evil a place for us to make it just on the prayers and sacrifices of our grandparents. More than ever, we need strong families.
We need strong fathers especially, like St. Joseph. We see in today's Gospel how Joseph worked hard to protect and to shelter his child from evil that could harm him. We also need good mothers and spouses who love each other.
On this feast of the Holy Family, we pray that Jesus Mary and Joseph may continue to strengthen our commitment to strengthening family life and upholding the institution of marriage as the life long union of one man and one woman in our society.
Not only does our faith come to us primarily through our family, but our Catholic faith is our family — in some ways our faith family is more our family than our biological family is.
God is our Father, more than our natural fathers will ever be. The Church is our Mother. It's something we need to really learn — recently a prominent Catholic said in the newspaper "The Church is merely a guest in my relationship with God." That's totally wrong. The Church is our loving Mother and the Spouse of our Lord Jesus Christ. We can't have God as our Father if we don't have the Church as our Mother.
The Church is our Mother in a figurative sense, but in a literal sense the Virgin Mary is also our Mother. And Jesus of course is our big brother and we are all brothers and sisters in him.
It's very important that we think of our faith using familial language. Because we won't be good fathers if we don't understand what kind of Father God is, we won't be good Mothers if we don't understand what kind of Mothers the Church and Mary are, we won't be good Husbands if we don't understand how Christ loved His bride the Church, we won't be good wives if we don't understand how the Church loves Christ, and we won't be good children if we don't understand how Jesus loved His Father and Mother.
May the newborn Jesus and His parents Mary and Joseph help us to understand and cherish these things as we celebrate this Eucharist. And thanks also Baby Jesus, for giving us all the Memeres of Woonsocket whose prayers greatly help our children to know and love the Holy Cross by which you redeemed the world.