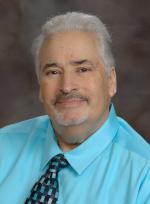 (Homily given at St. Joseph Church at the Funeral of 5th Grade Good Shepherd School teacher Dennis Pruitt, by Fr. Woolley)
Sixty Five years ago, 3000 miles away on the other side of the country, a baby was one day brought to a Church in San Francisco California by his God parents.
And as water was poured over the head of this chubby little baby, the priest said in Latin back then, Dionysius, Ego te Baptizo, in Nomine Patri, et Filii, et Spiritus Sancti.  Dennis, I Baptise you in the Name of the Father, and of the Son, and of the Holy Spirit.
From that day forward, Dennis Pruitt was a disciple of Jesus, and a child of God.  On that day, Jesus said to Mr. Pruitt the same thing he says to everyone who is Baptized. He said "Dennis, give your life totally to me, pick up your cross and follow me wherever I lead you, and in doing so you will lead many people to God, and your reward will be great in heaven."
In his childhood years, Mr. Pruitt took seriously that call of Jesus.  He said his prayers each day, went to Mass each weekend, followed the commandments as best he could, and went to confession when he failed to follow them. Dennis even felt as a young boy that God was calling him to one day be a priest or a religious brother when he grew up.  But as the years went by, and he became a teenager and young adult, Mr. Pruitt got a bit distracted from God's call by things going on around him.
For young teenage man with a potential religious vocation, the late 1960s San Francisco was the absolute wrong time and place to be living.  San Francisco California was Hippie Central in the late 1960s.  And while I can't picture it in my mind at all, the teenage Dennis Pruitt was grooving with his fellow hippies in Hate Ashbury, with long hair and a pony tail in his home town of San Francisco.
Vietnam however, put an end to his hippie phase.  Dennis went to Vietman in 1967, and served in a medical unit which would come onto the battle field to pick up wounded soldiers and get them to a hospital.  On one occasion, Mr. Pruitt went on to the battle field while the fighting was still going on.  While he was trying to save a wounded soldier, a bomb went off and he was hit in the leg by shrapnel, and badly wounded.  In 1969, Dennis was honorably discharged with an army commendation medal for bravely serving his country.
When he recovered from his wound after the war, Dennis next fell in love with a young woman and was engaged to be married.  But shortly before the wedding, his fiance died in a tragic automobile accident.
After all these rich life experiences, Dennis began to hear again God calling him to the Religious Life, a call that was always in the back of his mind throughout his teenage and young adult years.  Dennis finally realized it was time to pursue that call of Christ.  He joined the Irish Christian Brothers, a teaching order, took vows of poverty chastity and obedience, received a long black habit with a big black rosary, and became for the first time Brother Dennis.  Brother Dennis went on to teach in Catholic schools in Ireland, Quebec, and Florida.
While Dennis certainly had finally found his calling in life as a catholic school teacher, after several years he unfortunately decided he needed to part ways with the Christian Brothers, who were caught up in the upheaval many religious communities found themselves in in the 1970s following the Second Vatican Council.  To put it simply, the Irish Christian Brothers were trying to be New School, whatever that was, while Br. Dennis was Old School to the core.  And so with great sadness, he left the order, took off his religious habit and put his lay clothes back on, and was no longer Brother Dennis, but Mr. Pruitt from then on.
But as everyone knows, Mr. Pruitt remained Br. Dennis, remained a Religious Teaching Brother at heart.  He kept his vow of celibacy and never married, and remained 100% Catholic School teacher, teaching first in a catholic elementary school in Delaware after leaving the Order.
It was in that school that Dennis had a 5th Grade Student named Roy.  Mr. Pruitt inspired Roy so much that Roy decided  to be baptized and become a Catholic.  Mr. Pruitt was his Godfather, and remained a mentor and father-figure for Roy as Roy went through high school, then on to college, then on to  law school.  Dennis told all his students and friends how proud he was to see Roy pass his bar in New Jersey and Pennsylvania and become a lawyer, and how even more proud he was to see him get married in the Catholic Church.  Roy was just one of many young men and women Mr. Pruitt had a major impact on in their lives.
From Delaware, Mr. Pruitt moved up to Blackstone Mass, and taught a few years at Mercymount, before coming to teach for the past 10 years at our Good Shepherd Catholic Regional School.  And while I'm no authority on how good a math, science, or english teacher he was, in my honest opinion, Mr. Pruitt was the best Elementary School Religion Teacher I've ever met, and maybe ever will meet.
One day a few years ago, a visiting priest was one afternoon in Lent finishing up hearing confessions of the school kids here in the Church.  He came out of the back confessional, and his jaw dropped when he saw 30 children kneeling before the altar, saying by memory the Angelus, the Divine Praises, the St. Michael the Archangel Prayer, and the consecration to the Sacred Heart prayer.  That was a normal sight the past 10 years at Good Shepherd and St. Joseph's; it was one of the most inspiring, uplifting things to see Mr. Pruitt praying with his children, and probably how I will always remember him.
Every October, Mr. Pruitt would get out his 30 foot long Rosary and the children would sit around the altar reciting the living Rosary.  He also led them in a decade of the Rosary every day of class, asking Mary our Mother to look over and bless his students and their families.
Every November 1st, all of Dennis' students would dress up as a different Saint for our All Saints Mass; and at the homily I would quiz them on what saint they were.  The kids all knew everything about the saints, because Mr. Pruitt would teach them about a different saint every day of the school year.
And finally, during Lent, Mr. Pruitt would get out his big old rugged cross, and the students would come to church to pray the stations of the cross every friday.  And one day in Lent, the 5th graders would dress up and act out the stations of the cross before the whole school.
I really can't imagine Good Shepherd school, or any Catholic elementary school for that matter, without the Living Rosary, the All Saints Mass, and the Stations of the Cross services that Mr. Pruitt would organize and put on, and I am very glad to hear that they will continue to be done by other teachers in the years to come.
I could go on forever about all the things kids learned about the Faith, but in addition to being a tremendous asset to the Catholic identity of Good Shepherd School, the guy was also a lot of fun.  I wish my 5th Grade teacher had a hamster named Oreo, and another named Caramel.  One year he raised butterflies in class; a year ago he had chicken eggs that hatched baby chicks just in time for Easter Sunday. And no one can forget the Christmas Concert four years ago, when Mr. Pruitt came out dressed as Santa Claus – no padding needed!
We now come to the Passion of Mr. Pruitt.  While he put up a good front, and missed only one day of school the past ten years he worked here, Dennis for the past few years was a very sick man.  He would take his three day weekends and school breaks and check himself into the hospital for surguries and treatments.  He was supposed to spend Christmas Eve with my family and me at the Rectory, instead he spent it in Miriam Hospital.
Last Sunday morning at 1 am, I got a phone call that Mr. Pruitt was very sick and wanted me to come to Landmark ER to give him the last rites.  He said all the prayers with me and Mrs. Brouillard very calmly and peacefully, even though I'm sure he realized that this was the end.  He received Jesus in Holy Communion for the last time, and then the doctors gave him pain medicine, so from that point on he wasn't suffering any more.
Mr. Pruitt passed away peacefully at the Hospital early Wednesday Morning, July 18, at 12:05 am, on the Feast of St. Camillus, patron saint of nurses, surrounded by his nurse, and his family and friends. A few hours before he died, Roy and his wife and I prayed the Rosary at his bedside.  That little chubby baby who was baptised 65 years ago on the other side of the country has now ended his earthly pilgrimage, faithfully serving Jesus the Good Shepherd right to the end.
As he frequently told his 5th Graders, when he died, he wanted to be buried with his parents in California, and he wanted three words written on his gravestone:  "To be continued."
Thank you, Mr. Pruitt, for teaching us so much about Jesus.  We promise to keep you in our prayers, in case you have to spend some time in Purgatory.  We promise to keep praying each day all those prayers you loved to teach us, and to keep following Jesus as you so faithfully did.   God bless you and reward you for everything; And while we are sad and will miss you a lot, we know by faith that this isn't "Good Bye", it's "To be continued."