Preached on June 5, 2005
On the call of St. Matthew, Michelangelo and Carravaggio
Full Text :
Homily — 10th Sun. OT A June 5, 2005            

One of the most well known paintings of our day is Michelangelo's The Creation of Adam which Michelangelo painted on the ceiling of the Sistine Chapel in the Vatican:

          
In this Masterpiece of Art, God the Father with his long white hair and long white beard is in the upper right hand corner of the painting, while the just created, still lifeless body of Adam is down in the lower left hand corner of the painting, in his birthday suit of course. But our eyes are drawn to the middle of the painting, where God's finger is just about to touch Adam's finger. It is the moment God gives Adam the spark of life:
The meeting of God's hand with Adam's hand is so distinct and masterfully done that you sometimes see the hands alone in a framed reproduction on people's walls.
In today's Gospel, we read about the call of St. Matthew the tax collector. There is a famous painting of this very Gospel by the great painter Caravaggio. In this Masterpiece, Jesus is standing tall on the right side of the canvas, and like God the Father in the Creation scene, He stretches out His arm and extends a finger towards Matthew who's surrounded by a bunch of shady characters. Our Lord's mouth is shut, but with his eyes He tells Matthew "Follow Me."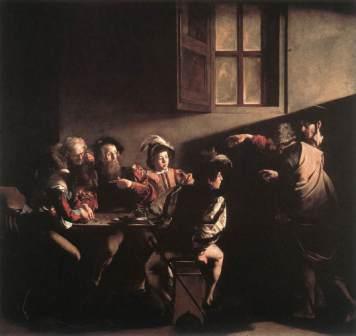 What is very interesting about Carravagio's depiction of the scene is that he paints the hand of Jesus exactly like the hand of Adam's in Michelangelo's painting.
That is because Jesus is the New Adam. And as the New Adam, Christ stretches out His hand to Matthew and invites Matthew and all sinners to touch Him and receive the spark of New Life.
When sin entered into the world, the spark Adam and Eve were given fizzled out to a whimper. We children of Adam and Eve only get a fraction of the spark of life that they got before the fall.
But the Good News is that God the Father has sent His Son Jesus, the New Adam, fully charged up with that original spark and then some. And here He is in today's Gospel, reaching out His finger and inviting us to touch it and have Life in abundance.
Caravaggio, great sinner and great artist that he was, shows St. Matthew looking with awe at Jesus who's looking right at him; and Matthew's fingers out but his hand is drawn back in fear and apprehension. It's as if Matthew is saying "can I, sinner that I am, touch Jesus and have life? What if I touch Him and nothing happens, and I go on sinning?"
Matthew had to make that leap of faith. He had to stretch out his hand and touch it to Christ's. He had to rise from his life of greed and corruption, and follow Jesus. He had to abandon his old unrepentant tax collector friends and take his place at table with those trying to repent of their sins.
Matthew of course went on to be an apostle and to write the Gospel of Matthew. But in the beginning of this Gospel he's still at his tax collector post, holding back his hand, wondering if this man Jesus could really spark life in a person like him.